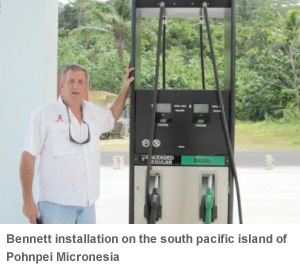 Established in 1991, Benford Fueling Systems, Inc started out in the service and installation company located in Tuscaloosa, AL. The business quickly grew to be a full line distributorship, representing such company's as Bennett Pump, OPW, LSI Lighting and many other high quality product lines.
Founder Byron Benford believed in first rate installation work, responsive service and providing the best products available to keep his customers running at peak performance.
"I have to be able to lay my head on the pillow each night knowing that the work we do will stand the test of time" Many of these stations built in the 90's are still operating today.
In March of 2000 the first pages of our web site were published, making benfordfueling.com the first PEI member company to offer an on-line catalog where anyone could purchase petroleum handling equipment. By 2003 business was booming and ARK Petroleum Equipment, Inc was formed to operate the web site as a separate entity. The names of Byron's three children, Amanda, Robert and Katherine were combined to make the new company name.
Today we have published more than 500 pages containing over 5000 items and the list grows daily. With over 32 years of knowledge and expertise in the field of petroleum handling equipment we feel we can guide our customers through any project big or small and get the job done right the first time.